Integration courses in Darmstadt
Integration Courses (General Integration Course and Second Writer* Course)
Integration courses are designed to enable or facilitate course participants to integrate in Germany and participate in social life. Acquiring the language, knowledge and recognition of the free democratic constitutional order and the feeling of being welcome are essential for integration into society.
Integration means participation – this encompasses all areas of society.
Zentrum für Weiterbildung gGmbH
Integration courses consist of two parts, the language course and an orientation course.
We currently only offer language courses in our company.
The aim of the language courses is to learn the German vocabulary and grammar that you need to speak and write in everyday situations, in everyday life and in the world of work. The contents are broad and strive to do justice to daily life in Germany as well as its requirements and needs. Topics include contacts to authorities, discussions with neighbors and work colleagues, writing letters and e-mails, filling out forms and applications, telephone calls, shopping, public transport, finding accommodation, spending leisure time, looking for and applying for work.
Participants progress through various modules within the language courses (general integration course 6 modules, Second Writer course 9 modules). These modules are based on the levels of the European Framework of Reference. The desired learning progression ranges from A1 (beginner level) to B1 (advanced language use). The integration courses finish with a language test ("German Test for Immigrants" (DTZ)). Successful participants receivea certificate.
The target group includes newcomers who are entitled to participate and who are required to participate, as well as foreigners who are required to participate and who have been living in Germany for a longer period of time.
If you are required to participate, you may apply for support from the Federal Office for Migration and Refugees (BAMF).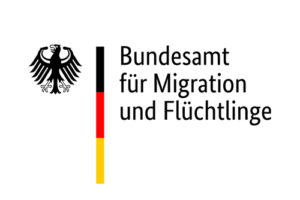 *A Second Writer is a person who is literate in his/her own language, where that language does not use the Roman alphabet.
Please contact us for more information.
Registration: by appointment only, no walk-ins.